Legal Issues in the Age of Climate Adaptation: Four New Legal Fact Sheets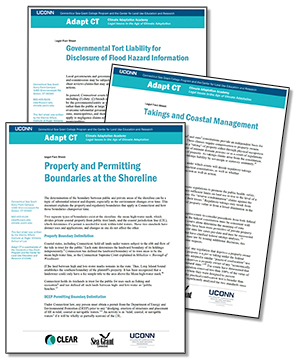 A number of questions were raised at Legal Issues in the Age of Climate Adaptation, a conference held by UConn CLEAR's and Connecticut Sea Grant's Climate Adaptation Academy in late 2015. The Marine Affairs Institute & RI Sea Grant Legal Program at Roger Williams University School of Law reviewed the questions, which came from the audience during the course of the conference. The Legal Program then developed four fact sheets addressing the following topics:
Upcoming Event
Symposium on Friday March 31, 2017
Water: Too Much or Not Enough?
Presented by Rockfall Foundation and UConn Climate Adaptation Academy
How do we plan for this aspect of our changing weather? 
Join us for an examination of the impact of changing precipitation patterns on communities and a variety of adaptive responses for municipalities, residents, and businesses. We'll address the challenges of managing infrastructure, maintaining adequate water supplies, supporting local agriculture, fighting insect borne disease, and planning for smart design. 
Who should attend: Local elected and appointed officials, land use planners, architects, developers, engineers, landscape architects, educators; Planning, Zoning, Wetlands and ZBA board and commission members; and all concerned with climate change and effective community planning.
Upcoming Event
Connecticut Coastal Erosion Control Workshop
April 25, 2017 at Water's Edge, Westbrook, CT
NEW WEBSITE LAUNCHED TO HELP COASTAL PROPERTY OWNERS AND BEACH ASSOCIATIONS
GROTON, CT---Connecticut Sea Grant announces a new website intended to assist coastal Connecticut beach property owners and beach associations with hazards such as impacts from storms and associated erosion and flooding.  The new site helps users evaluate threats and prepare to protect property from further damage.   A variety of actions, depending on the scale of damage and cost, are provided, including options such as dune restoration, repairing seawalls, moving landward or elevating structures. The new site is accessible at http://beachduneguide.uconn.edu
"We hope this website will be a valuable resource for both coastal property owners and managers in helping to protect infrastructure as well as the natural environment" said Dr. Juliana Barrett, one of the site's creators. Barrett is an associate coastal habitat educator with Connecticut Sea Grant and UConn Extension.  The site was based on Maine Sea Grant's Coastal Hazards site; we have added our own special touches in adapting to Connecticut.