Climate Adaptation Academy Workshop
Legal Issues in the Age of Climate Adaptation III: Road Flooding
Held on January 25, 2019
This UConn Climate Adaptation Academy workshop highlighted road flooding. We focused on projected road flooding with sea level rise along with concurrent impacts to tidal wetlands and marsh migration. We then explored various approaches to identifying and prioritizing road flooding issues including consideration of environmental and natural resource impacts, basic engineering concerns, local "political" issues, applicable regulations at both the state and federal levels, and legal options and concerns for municipalities. READ MORE.
Municipal Issues & Needs for Addressing Climate Adaptation in Connecticut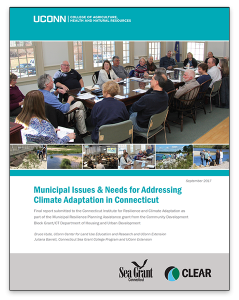 About this Report
Coastal municipalities are facing a significant number of challenges in planning for, and adapting to, changing weather patterns and climate change. Lack of resources and staff expertise make it more important than ever that research and support designed to assist municipalities with resiliency planning and implementation be something they can truly use. This study, designed to collect information on what exactly coastal communities can "truly use," was one of ten tasks comprising the Municipal Resilience Planning Assistance Project, funded by the U.S. Department of Housing and Urban Development in 2015 and coordinated by the Connecticut Institute for Resilience and Climate Adaptation (CIRCA). All ten tasks were focused on the coastal counties impacted by Storm Sandy in 2012.
From June 2016 to February 2017, officials from twenty municipalities in Connecticut counties impacted by Superstorm Sandy were interviewed to develop a list of their most pressing concerns and needs with respect to climate resiliency. A second objective was to determine what standard of authority and data uncertainty associated with research on sea level rise and floodplain mapping municipal officials are willing to accept, with regard to including this information in their planning and regulatory documents. The information in this report can be used by researchers and state agencies so they can provide resources that municipalities find applicable to their needs and defensible when used.
Legal Issues in the Age of Climate Adaptation: Four New Legal Fact Sheets
A number of questions were raised at Legal Issues in the Age of Climate Adaptation, a conference held by UConn CLEAR's and Connecticut Sea Grant's Climate Adaptation Academy in late 2015. The Marine Affairs Institute & RI Sea Grant Legal Program at Roger Williams University School of Law reviewed the questions, which came from the audience during the course of the conference. The Legal Program then developed four fact sheets addressing the following topics: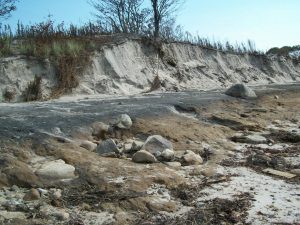 NEW WEBSITE LAUNCHED TO HELP COASTAL PROPERTY OWNERS AND BEACH ASSOCIATIONS
GROTON, CT---Connecticut Sea Grant announces a new website intended to assist coastal Connecticut beach property owners and beach associations with hazards such as impacts from storms and associated erosion and flooding.  The new site helps users evaluate threats and prepare to protect property from further damage.   A variety of actions, depending on the scale of damage and cost, are provided, including options such as dune restoration, repairing seawalls, moving landward or elevating structures. The new site is accessible at http://beachduneguide.uconn.edu
"We hope this website will be a valuable resource for both coastal property owners and managers in helping to protect infrastructure as well as the natural environment" said Dr. Juliana Barrett, one of the site's creators. Barrett is an associate coastal habitat educator with Connecticut Sea Grant and UConn Extension.  The site was based on Maine Sea Grant's Coastal Hazards site; we have added our own special touches in adapting to Connecticut.