Spring 2018 projects
City of Hartford, CT
Climate Proof Your Neighborhood. The team researched, designed and created an educational brochure for neighborhoods in the City of Hartford. The template was focused on the North End neighborhood but the brochure was designed to be customizable with a few changes.
Roof an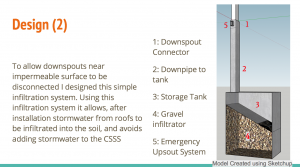 d Downspout Survey for Stormwater Management. This team of one used Google Maps/Street View to evaluate the North End neighborhood of Hartford, an approximately 60-block area. The study estimated the total roof area, and the volume of stormwater generated by that area, and which sites had best potential for downspout disconnection. Based on the conclusion that disconnection opportunities were sparse, the student (an Environmental Engineering major) designed a gravel infiltration unit that could attached to a downspout with minimal excavation, for use in ultra-urban areas.
Old Lyme, CT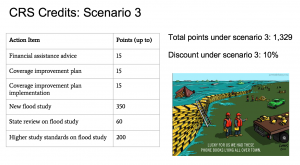 Assessment and Recommendations related to the FEMA Community Rating System. Using online mapping resources, the team developed a coastal risk assessment for the town. They then analyzed the status of the town with respect to a prospective application to the Community Rating System (CRS), a program created by FEMA whereby towns document their progress on 19 different steps/activities and, earning enough points assigned to these steps, can secure reduced flood insurance premiums for their waterfront property owners. The team calculated the points that the town already could claim, those that it could earn with a modest effort, and those that would be more difficult to earn (and what it would take).
Westbrook, CT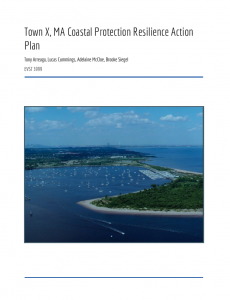 Town X, Massachusetts Coastal Protection Resilience Action Plan.  The Westbrook team was in the process of developing a Resilience Action Plan for this coastal town when current events overtook them and a climate-related controversy caused their project to be ill-timed. Welcome to the real world, Climate Corps! In a show of resilience themselves, the team undertook a Coastal Resilience Plan for a town in Massachusetts that, after much research, they deemed to have many of the same geographic, demographic, and social characteristics of Westbrook. The thought was that the Town X report would still have value in Westbrook with regard to the strategies and options described for responding to climate impacts to residential neighborhoods, the harbor area, and public beaches.
Stonington, CT (Avalonia Land Conservancy)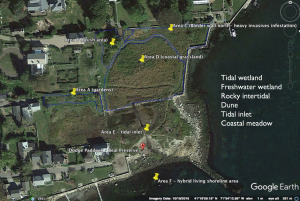 Resilience Management for A Coastal Natural Area.  This project conducted by a one-person team looked at the threats and survival strategies for the Dodge Paddock-Beal Preserve in Stonington, a 3.7 acre nature preserve owned by the Avalonia Land Conservancy, a six-town regional land trust in southeastern Connecticut. Threats from sea level rise, major storm events, stormwater runoff, and marsh migration were analyzed, and recommendations made for adapting to these threats.
Spring 2019 Projects
The teams are on the case! Projects are below, more information will be coming in May 2019.
Team 1 is working with the Southeast Connecticut Enterprise Region (seCTer) to develop and launch a resilience project for businesses.
Team 2 is working with the Town of Stonington on a green stormwater infrastructure assessment and Action Plan.
Team 3 is working with the City of Norwich on an impervious cover disconnection strategic plan, related to the "MS4" stormwater regulation.
Team 4 is developing a beach management/resilience plan for the Town of Madison.
Team 5 is working with the Town of Mansfield on a green stormwater infrastructure assessment and Action Plan.
Team 6 is working with the CT Dept. of Energy and Environmental Protection on design of a website on resources for towns related to the FEMA Community Rating System.
Team 7 is working with the Town of Waterford on a beach management/resilience plan.