A Guide to Planting Along the Connecticut Coast
This 35-page guide lists native trees, shrubs, herbaceous perennials and vines that are appropriate for planting in Connecticut's coastal zone. It includes a map of that ecoregion and characteristics of each species, such as tolerance to salt water and salt spray, light and soil requirements as well as wildlife and pollinator value. Juliana Barrett and Kiernan Sellars, 2021.
Questions? Contact Juliana Barrett at juliana.barrett@uconn.edu.

CT DEEP Coastal Property Owner's Guide
The CTDEEP Land and Water Resources Division (LWRD) has created a new Coastal Property Owner's Guide.  It can be found here for the Coastal Property Owner Tri-fold Brochure , Coastal Property Owners Infographic or on the DEEP website.

Many of LWRD's complaints and enforcement actions stem from unpermitted shoreline structures. Many properties with coastal violations are sold without disclosure of the enforcement item, and the new property owner unknowingly inherits the violation.
The goal of the Coastal Property Owner's Guide is to help familiarize current and potential property owners, real estate agents, attorneys, builders, and anyone involved in selling or buying coastal properties, with coastal structures and regulations. This guide is also available as a poster and as a tri-fold brochure.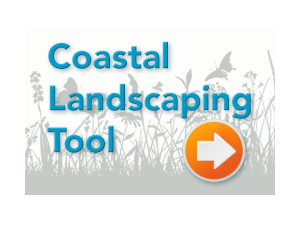 Coastal Landscaping Guide for Long Island Sound
Shoreline Homeowners

The Coastal Landscaping Tool is available to help you determine which landscaping option is right for you. Select how much salt spray you experience, if you have a sea wall or not, and the average slope of your property. Most of the plants listed in Step 2 have at least some tolerance to salt spray, but some are more tolerant than others. Some plants may also have tolerance to saline soils.
The Coastal Landscaping Guide for Long Island Sound is a collaboration of UConn's Connecticut Sea Grant, CLEAR and the College of Agriculture, Health and Natural Resources. Contact Juliana Barrett at juliana.barrett@uconn.edu.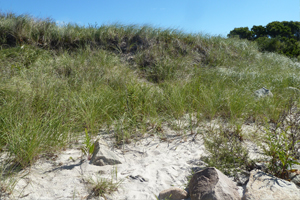 Connecticut Beaches and Dunes: A Hazard Guide for Coastal Property Owners
Storms and associated hazards such as flooding and erosion can damage coastal property and affect beaches and dunes that provide valuable habitat for uniquely adapted species of plants and animals. This website will help you evaluate threats and identify what you can do to protect your coastal property and the natural environment.
Checklist to ID coastal hazards on your property
A checklist has been developed to help you identify and rank beach and dune hazards using the resources in this guide and by conducting a field inventory of your property.